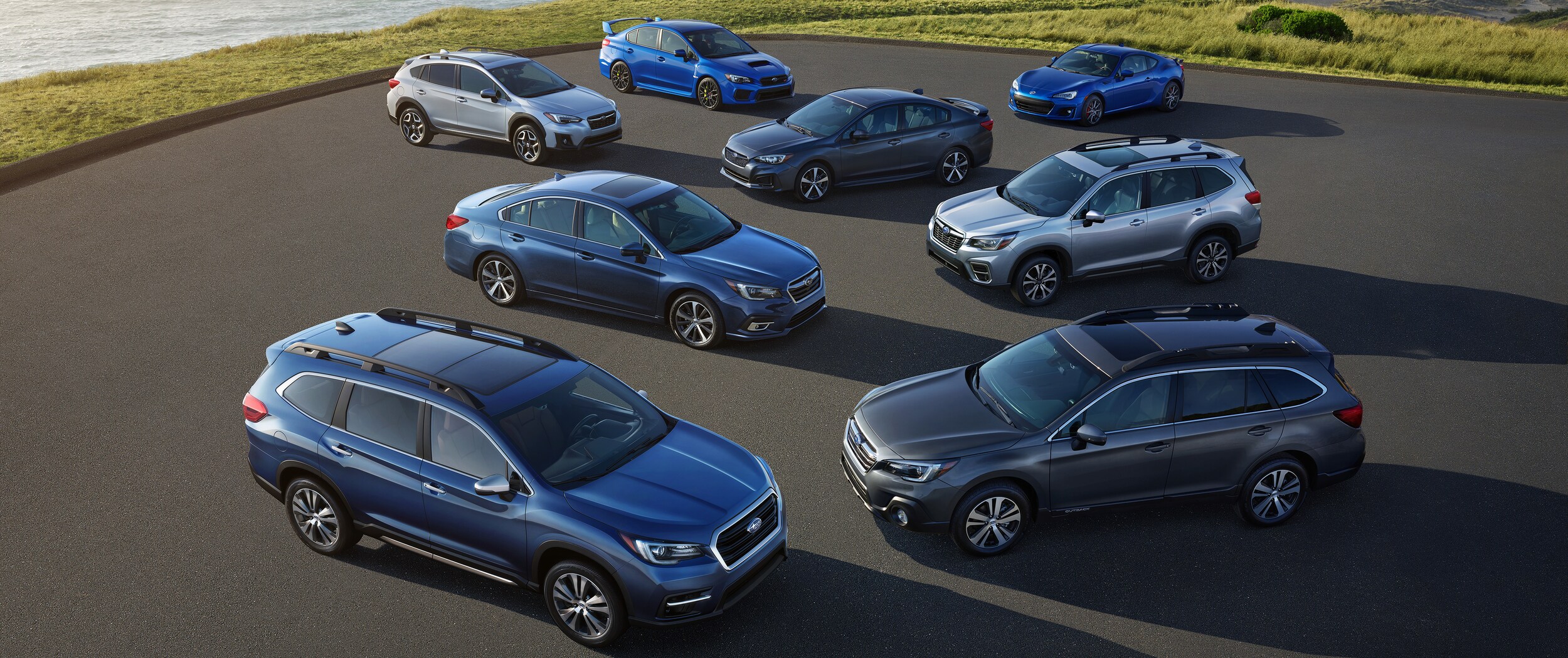 Learn More About Our Latest Inventory in Auburn, CA
Placer County area shoppers come to our dealership seeking something dependable and practical, that their families can enjoy for many years to come. Smart shoppers like you wish to carefully research each of our new Subaru models before they test drive one with us in-person, so we offer folks like you the resources read up on each Subaru we have to offer. After you know which one you would like to try, visit us at Gold Rush Subaru in Auburn, CA. Shoppers in Nevada City will find us about a half-hour away from them.
Test Drive a New Subaru at Gold Rush Subaru
A Subaru presents a gift that keeps on giving, thanks to high-rated safety, performance, and long-term value. When properly maintained, up to 97 percent of all new Subaru models retain their functionality after they hit ten years old. Our Subaru SUVs in Auburn earn high accolades each year for their family-friendly features, while our sedans and hatchbacks boast great fuel economy and remarkable style. If you have a passion for motorsports and want a sports car that can crank up the excitement, our dealership also has a Subaru model for you as well. Overall, financing or leasing a new Subaru represents a smart investment in your future!
Engine: 2.5L H-4 cyl
,
Transmission: continuously variable automatic
,
Exterior Color: Magnetite Gray
,
Interior Color: Gray
,
Doors: 4 door
,
Model: Outback
,
Year: 2020
,
Trim: Premium
,
Bodystyle: SUV
,
Make: Subaru
View Details
Engine: 2.5L H-4 cyl
,
Transmission: continuously variable automatic
,
Exterior Color: Crystal Black Silica
,
Interior Color: Gray
,
Doors: 4 door
,
Model: Outback
,
Year: 2020
,
Trim: Premium
,
Bodystyle: SUV
,
Make: Subaru
View Details
Engine: 2.5L H-4 cyl
,
Transmission: continuously variable automatic
,
Exterior Color: Tungsten
,
Interior Color: Ivory
,
Doors: 4 door
,
Model: Legacy
,
Year: 2020
,
Trim: Limited
,
Bodystyle: Sedan
,
Make: Subaru
View Details
Subaru Ascent
We recently welcomed the new Subaru Ascent to the lineup, and this midsize crossover continues to make waves across the country for its versatility and family-friendliness. The new Ascent currently stands as one of our largest Subaru SUVs, with three rows of seating and space for up to eight passengers. This sedan even boasts a great deal of versatility with high ground clearance, standard all-wheel drive, and can tow up to 5,000 lbs.
Subaru BRZ
Motorsports enthusiasts might recognize the Subaru BRZ sports coupe. However, even if you have little experience with performance cars, the BRZ provides comfortable handling with rear-wheel drive, to give first-time sports car drivers a car they can have a great deal of fun with and can easily handle. Through revised feature availability, the new Subaru BRZ offers considerably more standard equipment and conveniences than the Roseville driver might find on a completing coupe.
Subaru Crosstrek
If you feel the need to get out of Sacramento and hit the trails in Tahoe National Forest, then you might appreciate the versatile Subaru Crosstrek in Auburn, CA. This crossover debuted a few years ago as a revolutionary pairing of the Subaru Impreza hatchback with crossover SUV performance. The new Crosstrek provides off-road cred thanks to an efficient engine, high ground clearance, and standard all-wheel drive. This crossover has a spacious interior, great for adventurers and their pets!
Subaru Forester
Shoppers might seek out something family-friendly, but they might not need something as big as the Subaru Ascent; our team may suggest the iconic Subaru Forester to them. This highly-recognizable SUV has enjoyed a status of popularity thanks (among other things) to its cavernous five-seat interior, which does not force Auburn drivers to sacrifice backseat space for trunk space and provides both in class-leading ways. The Forester also comes standard with Subaru Symmetrical All-Wheel Drive.
Subaru Impreza
Some people need something simpler, so they may turn to a sedan or hatchback for their daily commuting needs in Sacramento, CA. The Subaru Impreza offers daily drivers something dependable they can use for many years to come, whether you choose the four-door Impreza sedan or the five-door Impreza hatchback. Both of these models come standard with all-wheel drive, a feature which you might not find on other midsize sedans from brands like Subaru.
Subaru Legacy
The Subaru Legacy also represents the sedan lineup well for its interior, which shoppers may consider more spacious than other competing sedans from other brands. This sedan comes standard with EyeSight Driver-Assist Technology and Subaru Symmetrical All-Wheel Drive, both of which help keep drivers safe in their daily affairs. If you enjoy the feel of driving stick, it may delight you to now that the Subaru Impreza, like our sports cars, also comes available with six-speed manual transmission.
Subaru Outback
The Subaru Outback represents the bread and butter of Subaru's most versatile crossovers, thanks to its off-roading cred and great style. This crossover offers outdoor enthusiasts a versatile way of traveling, with standard adventure-oriented gear such as integrated roof crossbars to transform your roof into a functioning rack for up to 150 lbs. of gear. The Outback also offers standard EyeSight® Driver-Assist technology and an adaptable suspension to take on a variety of terrain.
Subaru WRX
If you follow the Subaru Motorsports division, you might recognize the Subaru WRX, one of our champions of racetracks throughout the US. Its high-horsepower turbocharged engines, all-wheel drive, and manual transmission, deliver an exhilarating experience as this iconic racecar translates into street-worthy driving. Each Subaru WRX model comes standard with many features to crank up both the performance and style that drivers can enjoy, whether on the racetrack or driving to work.